TO HELP YOU
STAND OUT
FROM THE CROWD
An easy solution for you to create, schedule and post engaging content across all platforms.
Having a social media strategy and implementing it can be difficult and time consuming. However, to get relevant, interesting and up-to-date content is best coming direct from the people who know the business the best. Yes, you.
Take control of your social media
Using our social media management tool we make it easy for you to create interesting and engaging content and post quickly to all your social media platforms.
Lounge Design in partnership with Esemdee gives you the opportunity to take control of your social media easily.
N

Drafting and approval process to ensure the right content is sent

N

Library of over 2,000 pre-made template posts for you to edit and use, saving you time when you're not sure what to post

N

Analytic reports to see how your campaign is performing

N

RSS feeds from all of your trusted and favourite blogs, so you can quickly create posts from your most interested articles and breeze through breeze through the process of searching for content and save a ton of time doing it

N

With a click of a button auto schedule posts for the next available slot in your social media calendar.ocess of searching for content and save a ton of time doing it

N

Simultaneously post to the major social media platforms without having to recreate content for each

N

Hashtag manager gives you the chance to create collections of hashtags and save them, so no need to remember or retype tags you frequently use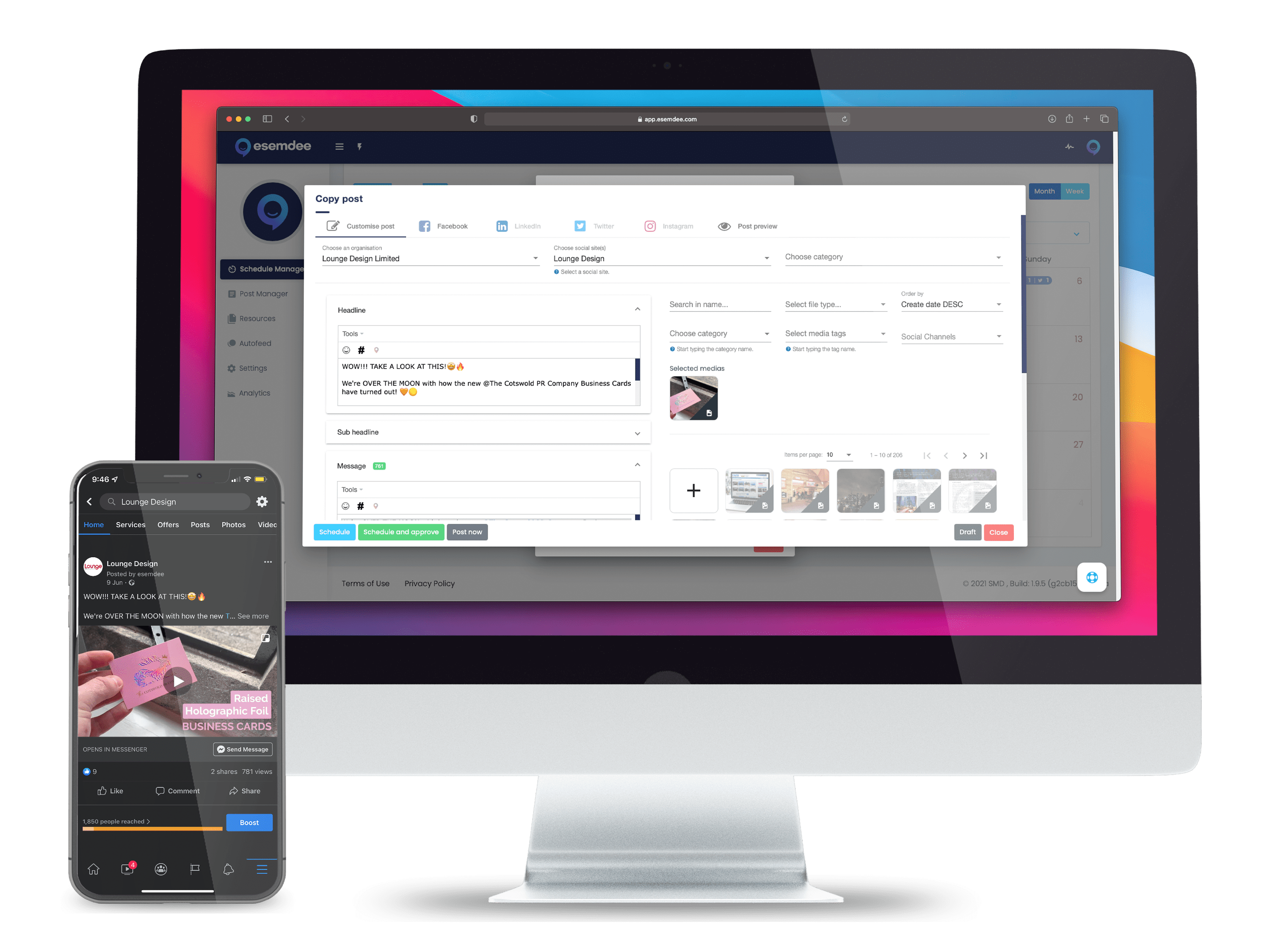 Simplify the complexities of Social Media Management
Plan & Publish
An intuitive planning platform that gives you the power to build and execute strategies, schedule your posts and quickly construct updates to bring your business profile to the forefront.
Easy Content
Stuck for ideas when posting? We have a constantly growing library of ready to use content to share on your social media sites. Simply choose and use to increase engagement and interest from your clients. 
ANALYSE & REPORTING
Customisable analysis across all your social media sites. Compare the effectiveness of all your posts and use the results to build your strategy. Analyse results between users, branches or social media sites.
So… What are you waiting for?!